"Fat Belly" Pork Sandwich Recipe
Ingredients
Pork belly with skin
Salt (to taste)
Chinese five spices
Lettuce
Cherry tomatoes
Kimchi
Mango or avocado
Diced carrot and onion for the preparation bed
Cooking time 4.5 hours
Start by punching holes in the skin of the pork belly. This will make the skin crunchy or similar to crackling. The more holes you make, the better the outcome.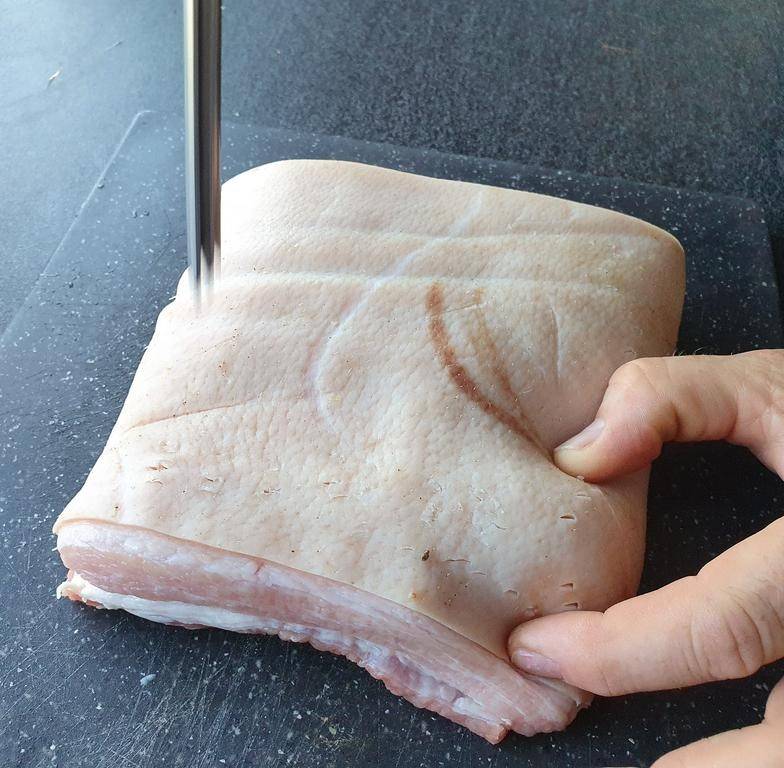 Slather the pork belly with Chinese Five Spice and salt, then cut the pork belly in half.
Use the salt on both sides but only apply the Chinese Five Spice on the meaty side.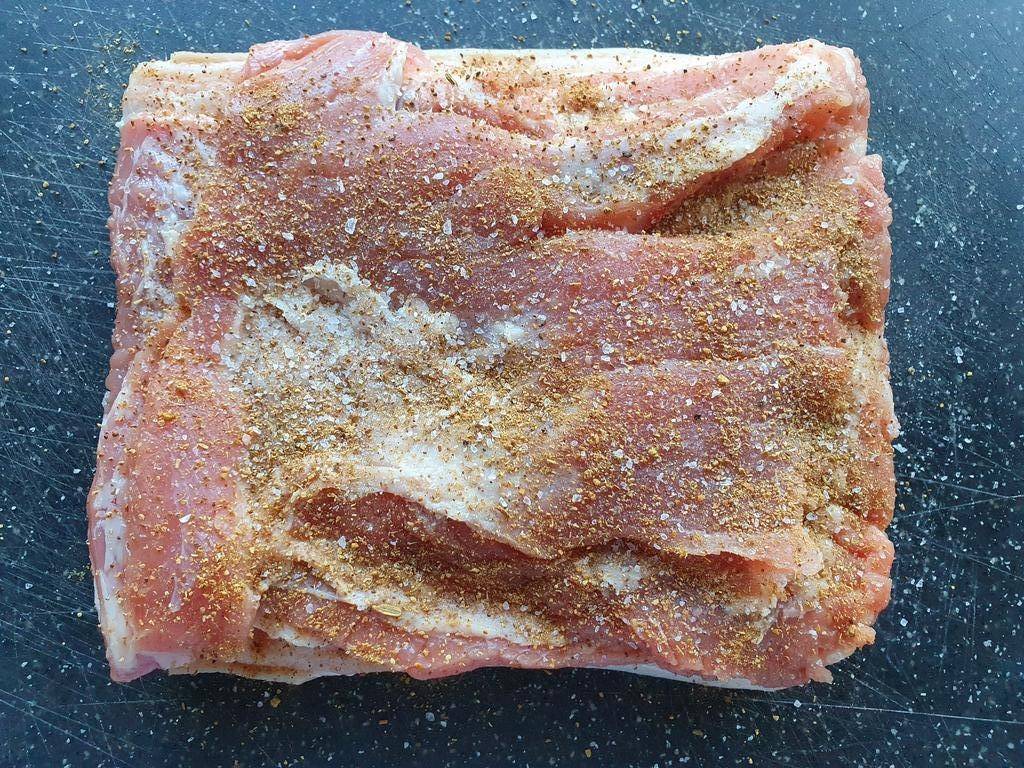 Dice the vegetables and put them in a roasting dish. Place the pork belly on top, rind side of the pork belly facing up. This style of BBQ is prepared for indirect cooking at 180 degrees Celsius or 350 Fahrenheit.
(no direct heat, so no grilling). Make sure the bowl you're using is acceptable for use on a grill. We suggest apple and cherry wood for a nice smokey flavor.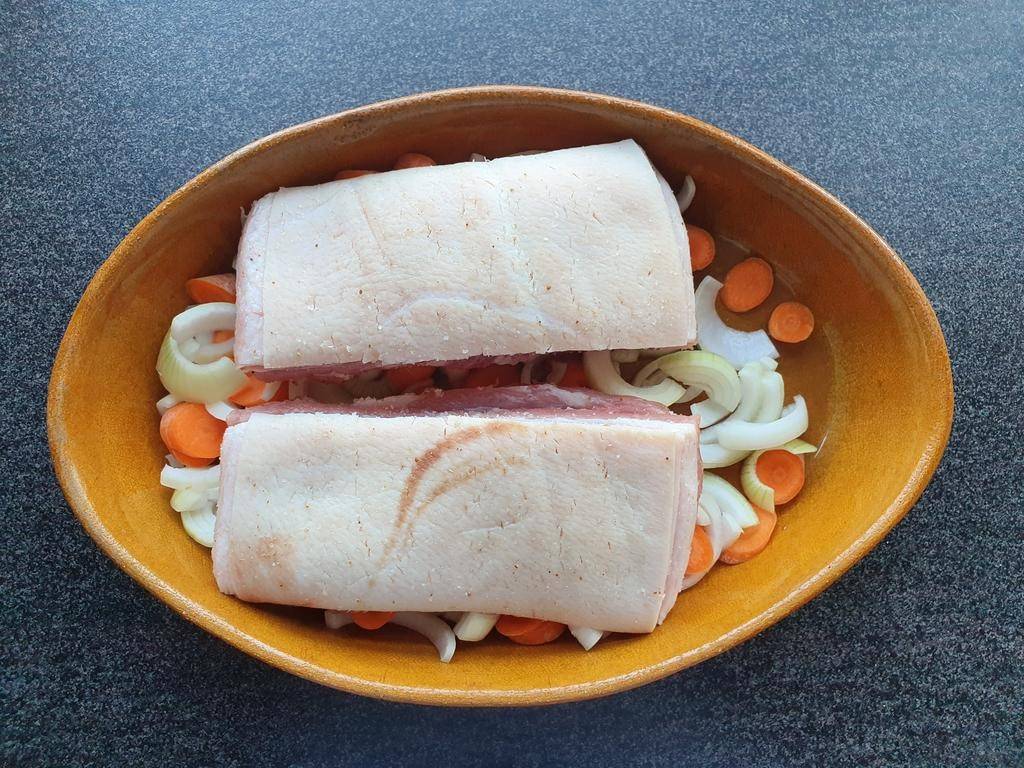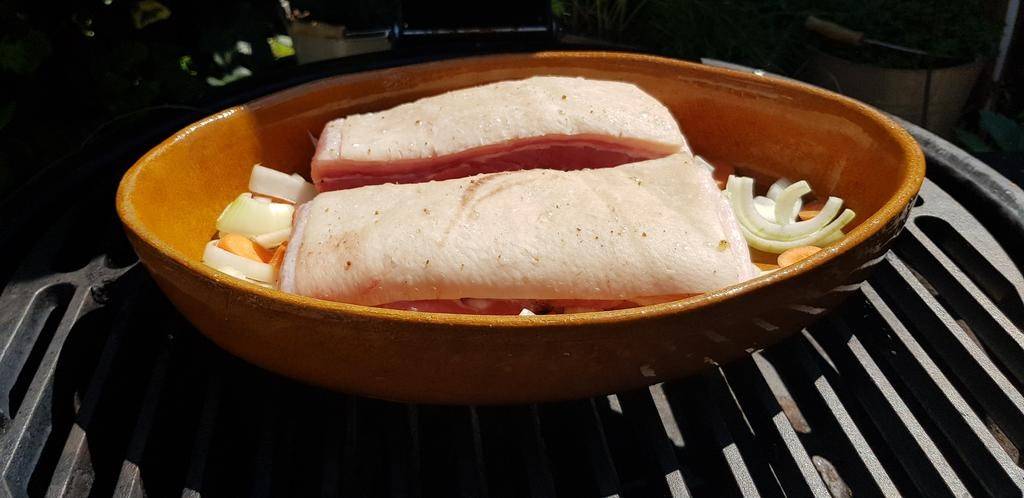 After about 2 hours it will start to look like this.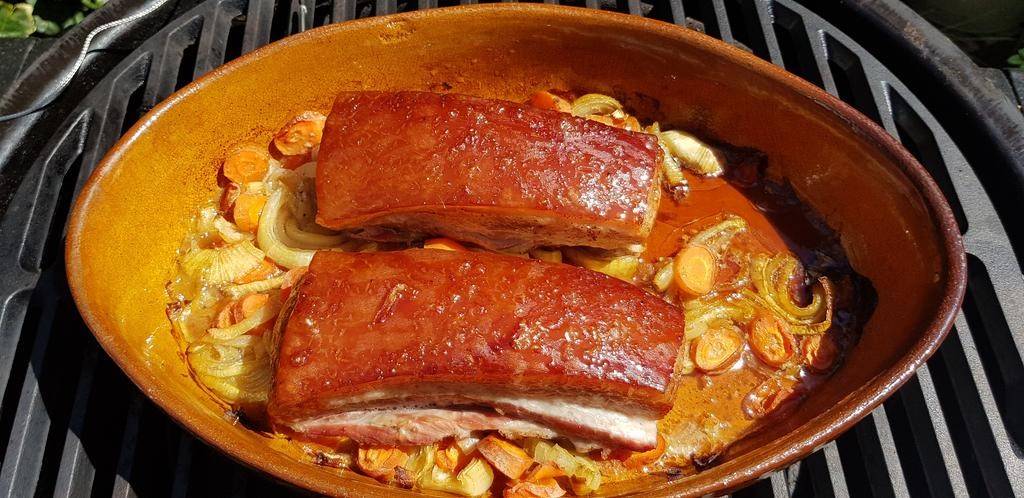 After about 3 hours, remove the pork belly from the roasting dish and place it on the rack. To get some extra crunchy bits on the bottom of the belly you can rest it on the grill until the skin starts to bubble and crack.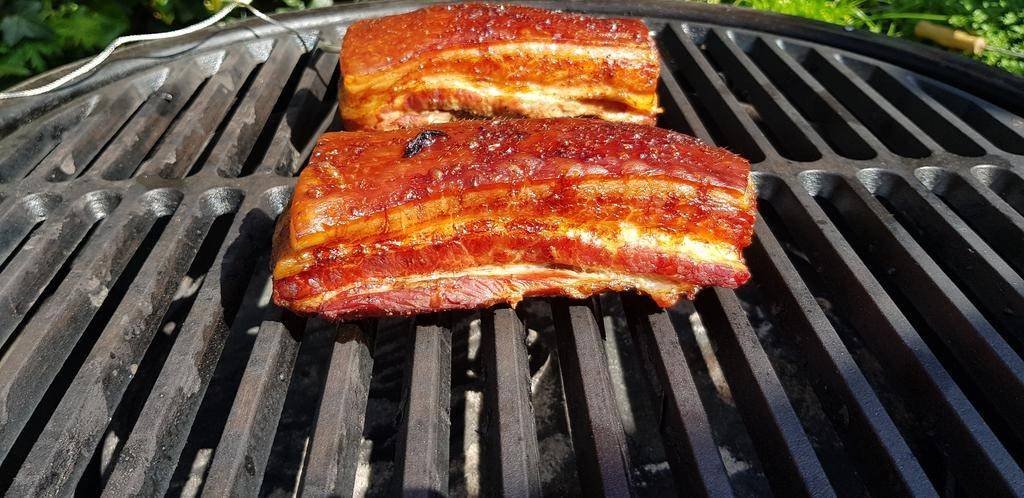 Four hours later this pork belly looks great!
Let the pork belly rest for at least 10 minutes before cutting. (if you can wait that long!)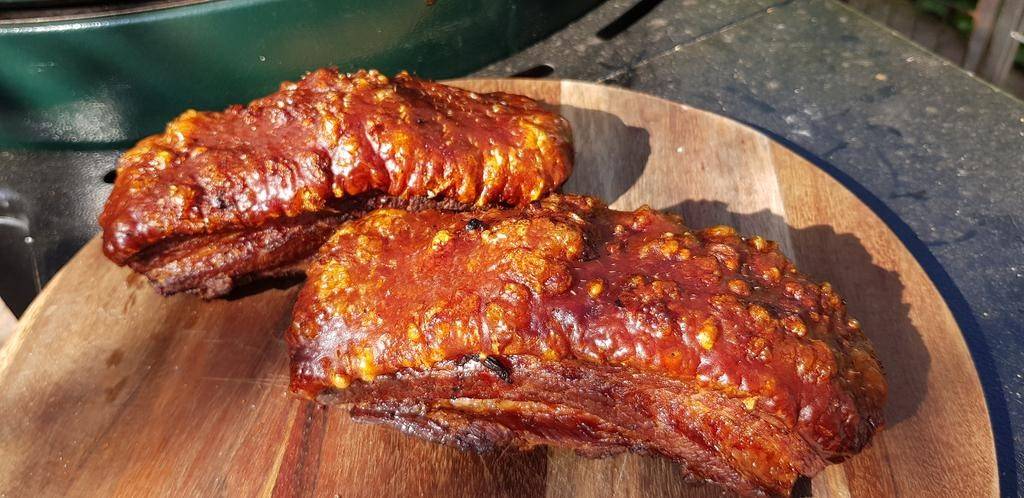 Cut the pork belly in half, long ways, so it can function as the "bread" part of this sandwich.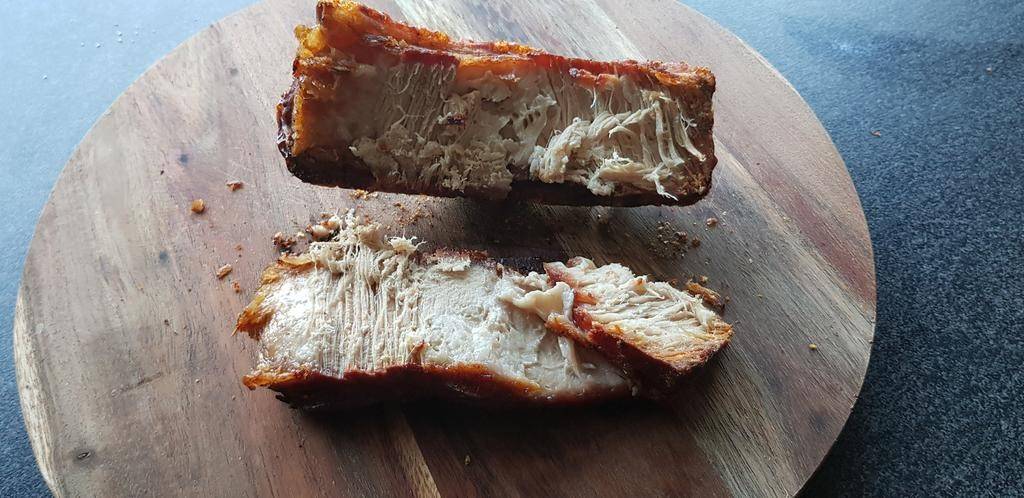 Now you're ready to build the sandwich. Start with a layer of lettuce and add layers of tomato, kimchi, avacado and mango. Top the whole thing off with the below recipe for Halitose Sauce which you can make while the pork belly is on the grill.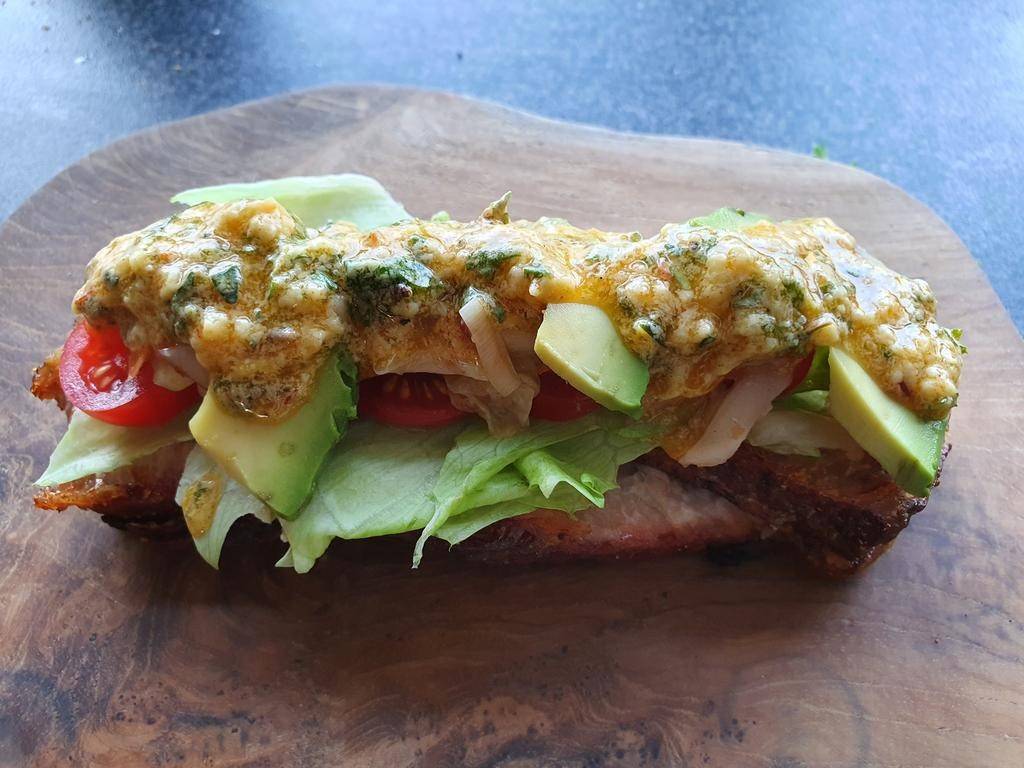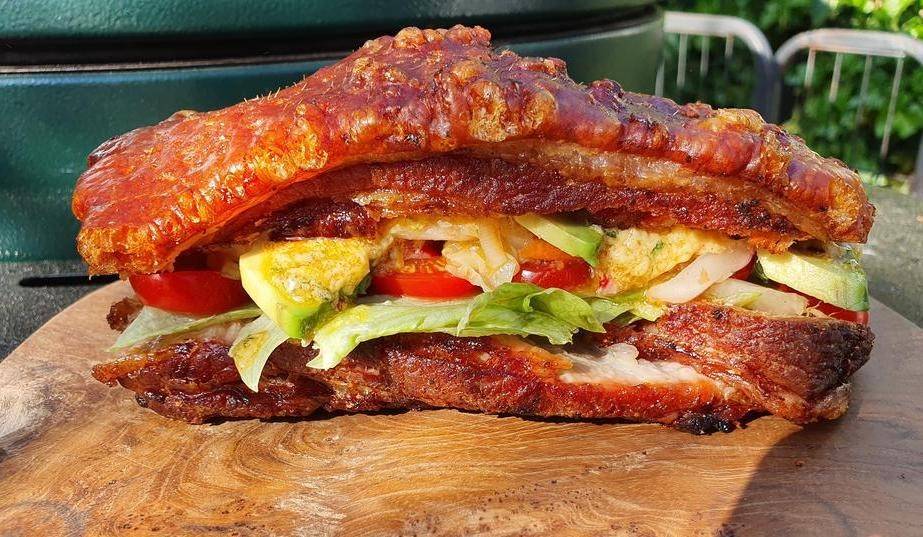 ---
Halitose a.k.a. Bad Breath Sauce
Ingredients:
1/3 cup of melted butter
Juice and zest of half a lemon
4 cloves of garlic
1 tablespoon of Dijon mustard
A pinch of cayenne pepper
1/4 teaspoon of paprika powder
2 tablespoons of freshly chopped parsley
1 tablespoon of freshly cut chives
2 teaspoons of finely chopped thyme
1/4 teaspoon of ground red pepper flakes
Salt and freshly ground black pepper to taste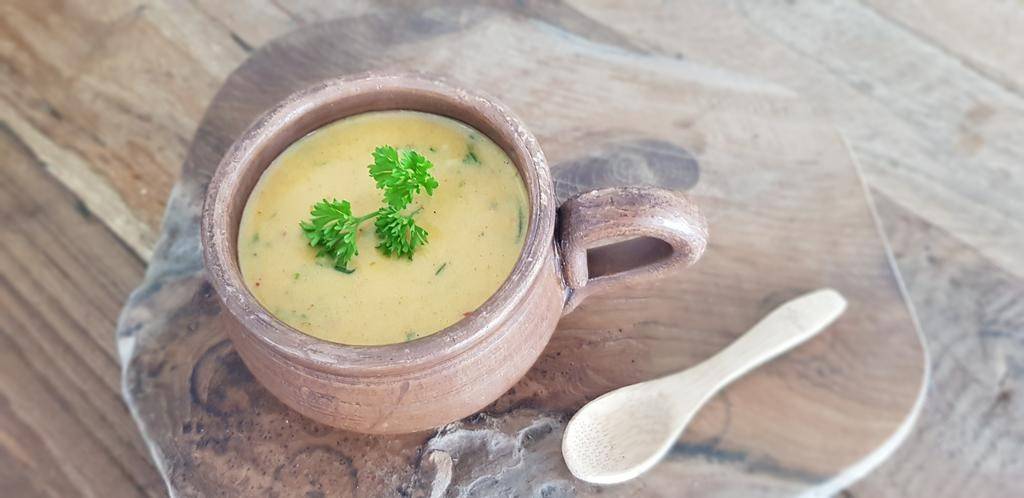 Melt the butter in a pan on the BBQ (or use the stove for convenience, just never admit to using it!).
Then mix the melted butter, lemon juice, crushed garlic, mustard, cayenne pepper and paprika powder together. Finally, add the parsley, chives, crushed red pepper flakes and thyme and season with salt and pepper.
---
Read more
✕